LIMITED TIME OFFER
AppSumo is currently running a lifetime deal on access to a suite of marketing tools called Kyvio. These tools include a drag-and-drop sales funnel creator, email list builder and autoresponder, a blogging utility, the ability to create multi-level membership sites, and a digital product storefront — all for a one-time investment of just $49.00.
The standard monthly fee for access to these tools ranges between $29 and $149 per month (depending on the service package you prefer), so this one-time payment option is pretty incredible. The offer launched this morning (January 16, 2018) and like most AppSumo deals I can't imagine it will be around for more than a week — so if you're interested, click the link and go get it now (the deal includes a 60-day money back guarantee, no matter the reason).
I've included Kyvio on SalesToys because I think this could be a really fun way to find customers and treat them like members in an exclusive club!
Most professional salespeople put a lot of effort into finding prospects and winning them over as a new account for whatever company they're working for. But what if you found those prospects and then invited them to be a member in an exclusive club that offered insight and value beyond whatever product or service your employer is selling?
One of my favorite groups of salespeople to work with are media advertising reps. This is an industry of salespeople who need to differentiate themselves through their creativity and ability to deliver results, yet they insist on training their sales reps in old business models (if they train them at all!) that perpetuate commodity pricing, offer zero accountability for the lack of results, and the practice of finding leads by monitoring competing media properties for new advertisers and offering then a lower price and a ton of free promotions to lure that client away from their current media company just long enough to run an ad on the new media property — which is then spotted by another rep at another media company and the process repeats itself… ad nauseam (see what I did there?).
The sales reps that do bust their butts to win these new accounts and sign them to an advertising contract usually just add them to the master database of their media conglomerate employer for billing purposes and only speak to them again for three reasons…
The advertiser is late paying an invoice
The advertiser is late on getting ad copy to the production person
It's time to renew the advertising contract
What if they used a tool like Kyvio to change the game?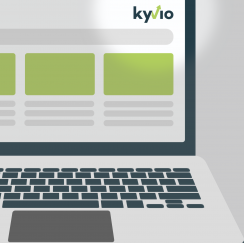 Here's an alternate path to woo, win, and watch-over an advertising client utilizing the marketing tools in Kyvio.
Blog
Use the Kyvio blogging feature to produce and publish content that your ideal prospect will find helpful. If you special in an industry (Auto Dealers or Real Estate or Insurance) share ad campaigns from around the world that produced great results, profile one of your existing advertisers and highlight their business success, share information about your media audience that a prospect will find compelling, and be sure to post elements of any current client campaigns you have running (so they can see that their competitors are investing in campaigns to reach your audience.
Lead Funnel
Somewhere in your blog post/article be sure to promote a piece of valuable bonus content (a sample radio script or print advertising templates or audience/industry research) and offer it to your readers (your prospects!) in exchange for their giving you their name and email address (and maybe their company name) — don't ask for more than this! Asking for too much information on a form (especially the first time) will frighten many prospects away (they're afraid you'll sell them something). If you have their name and email, it's likely you can use Google or Linkedin to find the other details you wanted anyway. This simple, no-risk transaction is a way to provide value and demonstrate your expertise to a prospect (multiple prospects!) without resorting to calling them on the phone with the brilliant cold-call opening line of "I saw you advertising on one of our competitors…" which really only serves to validate that people (even SALES people) are noticing their current campaign.
Digital Products
Use the product store front to deliver your bonus content to the prospect. Use the Discount Code feature to give the prospect an exclusive code to redeem at checkout in order to receive the bonus content (likely a PDF download) for free. Be sure to have a selling price attached to the product that "everyone else" would have to pay. Post a public price of $5 or $10 or $20 on your content to establish the "street value" of this content in the eyes of your prospect —  and hey, maybe you'll even sell a few copies for cash along the way!
Email Marketing
Once the prospect has entered the top of your sales funnel by requesting your bonus content, you can use Kyvio's email autoresponders to schedule a series of 3 or 4 emails you can use to follow-up on the content they downloaded to see if they had any questions, to further explain one of the ideas it included, or to offer another piece of valuable content on a similar subject. Think of these emails as containing breadcrumbs that lead the prospect toward your door… and to a sales appointment with you.
Membership Access
Membership has its privileges. And one way to set yourself apart even further from your competition is to let prospects know that once they begin doing business with you, they will receive exclusive access to advertising advice and insights to grow their business and increase their advertising results as a member of your "Client Club". Kyvio's ability to grant login access to your site members will allow you to publish private content reserved solely for your client list. Add more bonus downloads or audience data for your current advertisers to access anytime they wish. One idea would be to develop a video content by interviewing your print ad designers or radio production team to give advice on producing better ads for your audience.  And you know those horrid "One Day Sales" your manager makes you go around town and pitch? What if you made special deals and new event sponsorships available to members of your Client Club first? It gives your clients exclusive first look at any of your new advertising opportunities, and it's a perceived benefit to your current client list because they get to early access before you begin pitching it around town.
Email Nurturing
And now go back to the Email Marketing tools to look at them as a device for staying in touch with your current client list. You used the autoresponders to engage your leads further along the funnel — now use the Email utility to maintain a conversation with your customers/members to keep them in the loop, offer advice, and share new ideas.
Use these ideas!
You don't have to use Kyvio to execute these concepts. There are a myriad number of sales and marketing tools and toys available. I can name at least ten individual alternatives to Kyvio for publishing articles, generating lead funnels, distributing digital products, and maintaining email marketing lists. I can even name 3 or 4 tools that bring all these utilities under a single source software — but at this price? Nope.
I'm a salesperson like you.
I want to keep more money in my pocket.
But unlike many of you, I am willing to invest in tools (and toys!) that will give me an unfair advantage over my competition, deliver greater value to my clients and prospects, and (most importantly!) allow me to have a little more fun while I close sales.
You're invited to check out the Kyvio deal and decide for yourself — but do it quickly. This lifetime access for a one-time fee of $49 wont be around long!